Logora.fr is a french public debate platform, where every citizen can share and confront their ideas, upholding the standards of structured ideas backed by verified sources.
Why did they need the help of a UX/UI Designer?
Logora is starting small but they have big objectives: they want to became the leading o
nline plat
form for social and political debate and have a major importance in the next french presidential race.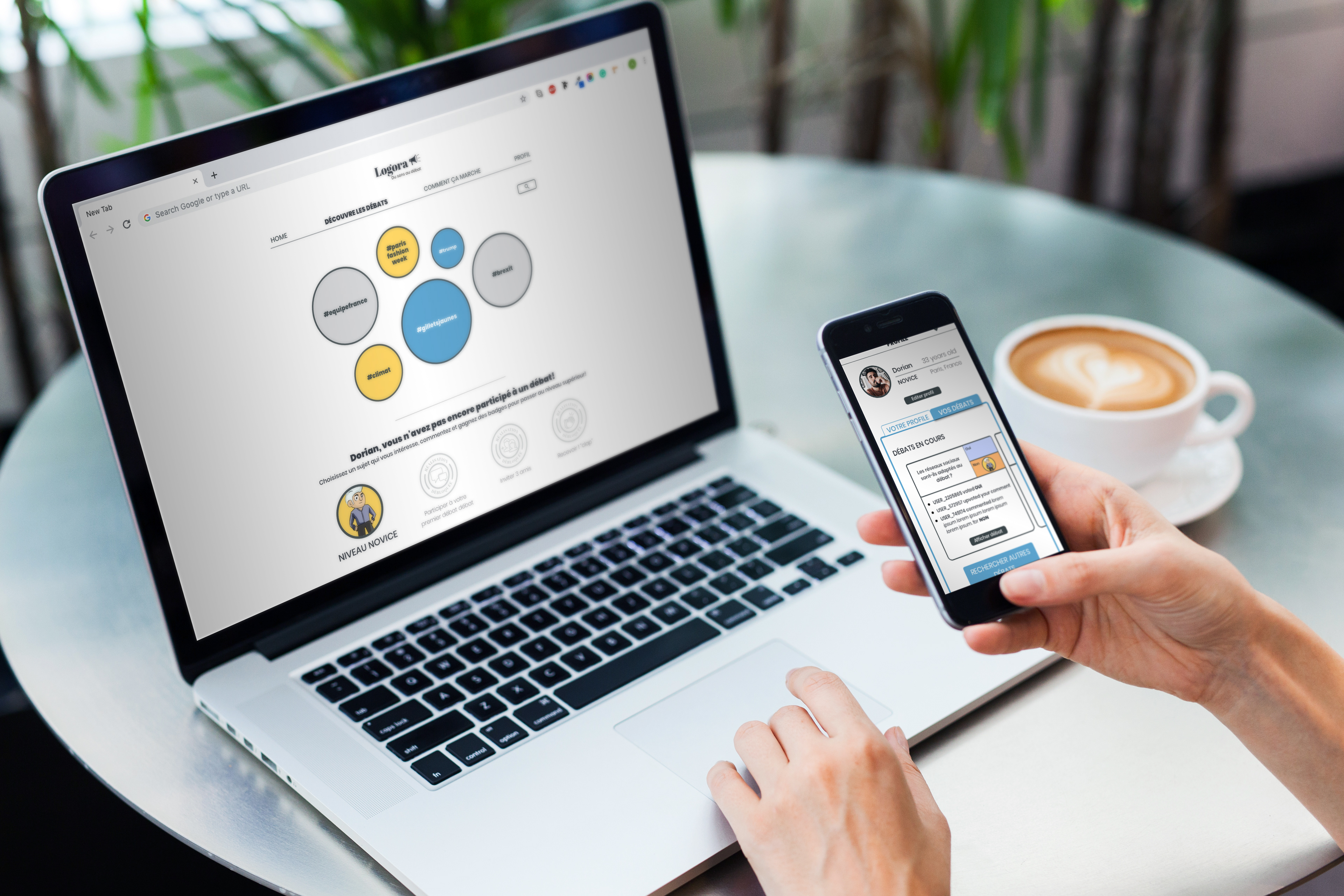 In a
design sprint
that lasted 2 weeks, we decided to tackle 2 of the biggest problems that they are facing right now:
- Low user retention:
From the hundreds of users signed up in the platform only a small percentage return to the website;
-
Low user engagement:
Even thought our users register number continue to grow, only 3% of users create a debate.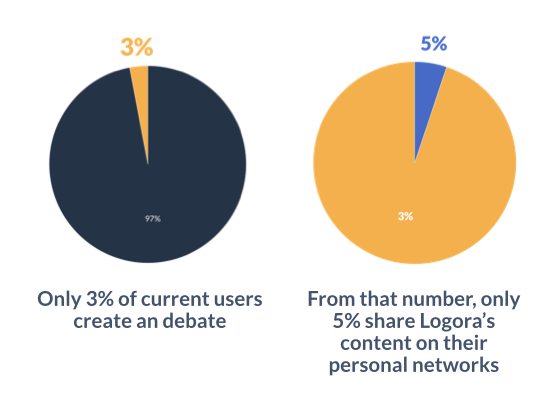 Even though Logora doesn't have the highest retention rates,
we know that the users come to this platform after a debate on other platforms like facebook and twitter
, which tells us that there is already a sentiment that social media isn't the best platform to debate and that there is a need for a new platform like the one that we are building.
But the work isn't only for my client. It is also for the current and future users of this platform. 
So I sent out an
online questionnaire
and I got over 80 users and non Logora users responding, helping me come up with a clear picture of what are the
biggest frustrations when debating or sharing opinions online
.
From all the information that was gathered, these are the main points that stood out:
- people mostly debate within their group of friends but
77% of the interviewed said they actually like debating with strangers
and discovering new points of view and ideas;
-
only 10% of people feel heard
by the other people their trying to debate with;
- most people (in particular women) feel
anonymity is a double edge sword
, that in one hand, can empower people to speak out about sensitive subjects, but also can allow 'trolls' and online harassment;
- debating on social media like Facebook or Twitter isn't easy.
Discussions turn to insults
, there are no real conversations and, even if someone spent hours debating something, they would feel that it wasn't at all productive.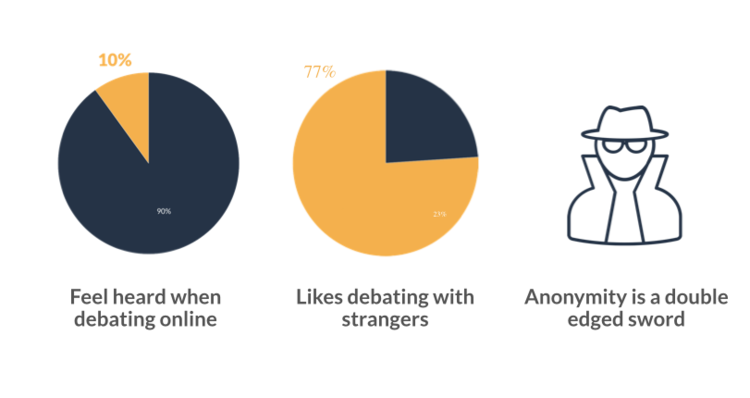 BUT ALL THIS INFORMATION… WHAT TO DO NEXT?
From the mountain of information that I got from my user interviews and my client, I created an affinity diagram to after
develop my Persona and empathy map
to better understand who are my users, their gains and pain points.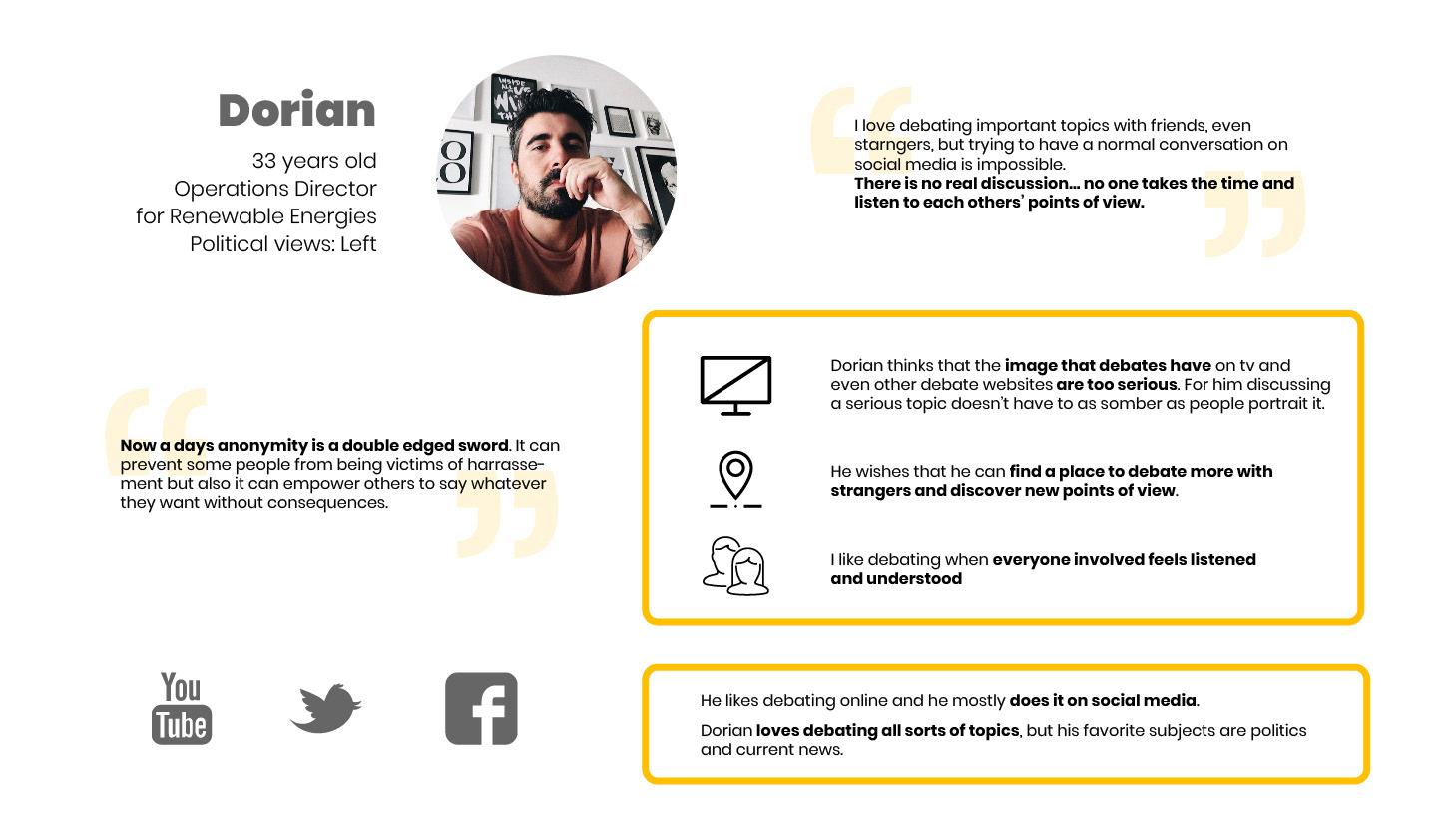 Dorian is a bit of all of us that use social media and consume online information. He likes to debate important topics, like politics or foreign affairs, with formed opinions and real facts, but he also loves debating more banal things, like sports or Daylight saving time. But what he definitely finds most hard to deal with when he is debating online is the fact that people say what ever is on their mind, with no basis or sources to back their opinions.

PROBLEM STATEMENTS AND HYPOTHESIS
We believe that making the process of on boarding of new users more welcoming for future users, we will achieve higher user inscription numbers. We will know we are right with the increase in inscriptions by referral.
We believe that the creating an engaging experience for our current and future users, will bring higher engagement numbers of users. We will know we are right with increasing numbers of active users.
We believe that by offering people the choice of anonymity for specific debates, will create higher levels of thrust in Logora's reputation. We will know we are right with people thrusting more in us to keep their data and personal information safe.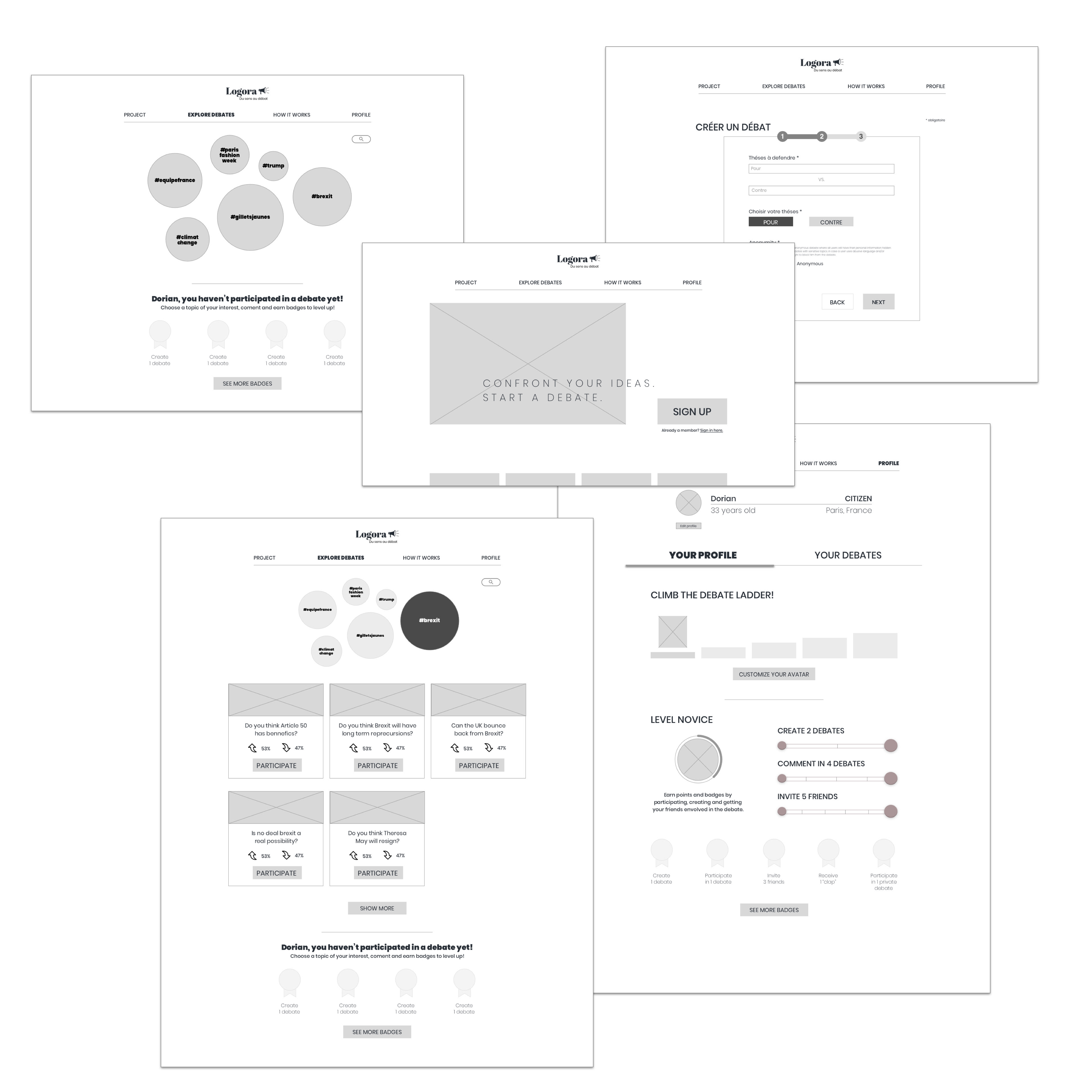 FALL IN LOVE WITH THE PROBLEM, NOT THE SOLUTION.
Since in reality I have 2 clients (Logora and the general public interested in online debates),
I had to come up with a solution that met both needs
. A solution that could bring to Logora
higher engagement and higher user retention
and create an
online community to share ideas
and points of view.
I needed to come up with a solution. And luckily, I found one closer than I thought. 
In my one on one interviews with previous Logora users, almost all of them mentioned that they love the "clap" system and the fact that they could "climb" from Deputy to Politician.
SO COULD THE SOLUTION REST ON THE FACT THAT WE WOULD TURN ONLINE DEBATING INTO A GAME?
Gamification
isn't a buzzword nor is it a gimmick. 
It creates real powerful emotions on humans (proven by
studies
) just like debating; it generates positive and challenging experiences for the users, as
people always want to surpass themselves
and even others in friendly competition; and as a consequence, it generates engagement between the users and it creates loyalty to the brand.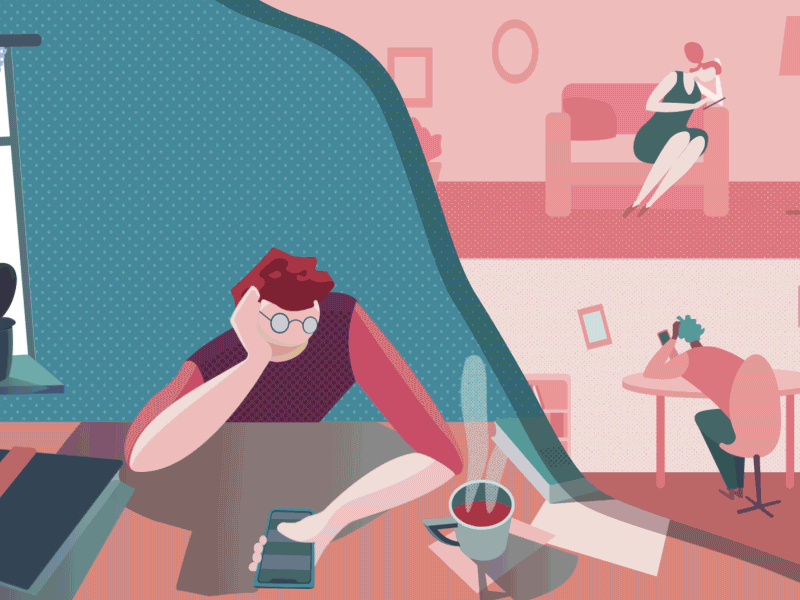 After discussing with my client and
deciding that the new gamification feature was the best solution for Logora
, I updated the existing moodboard to better fit this features that Logora and started to create the Style tile so that my client would better understand and see the new look of the platform.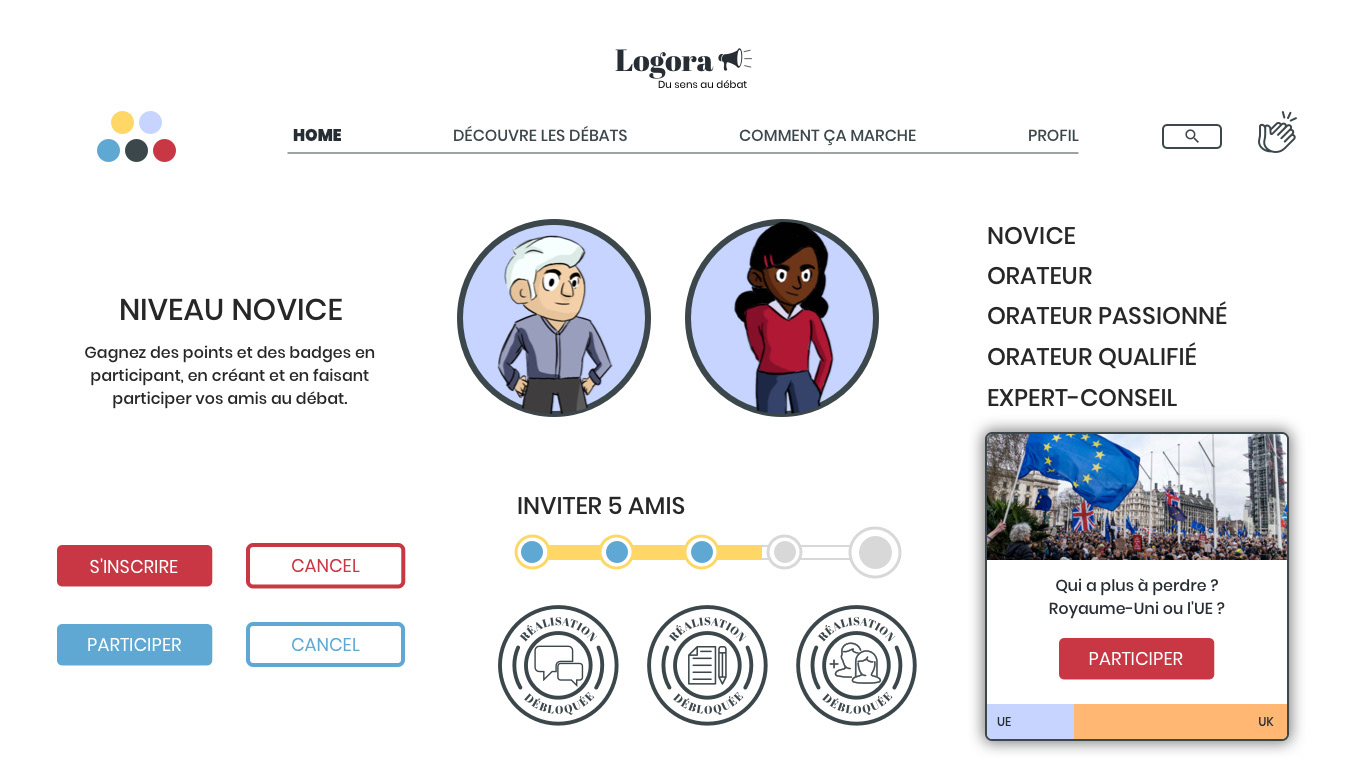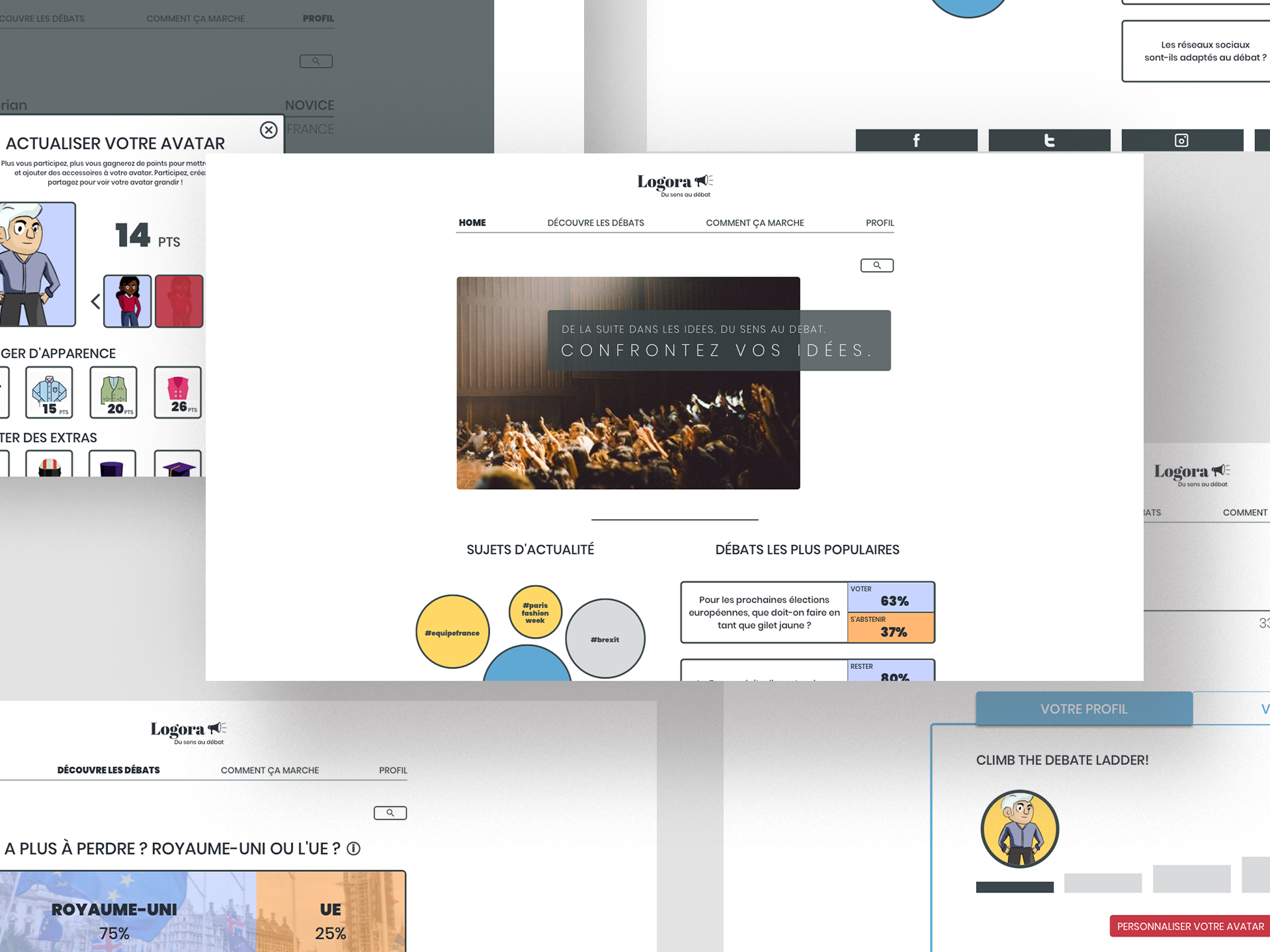 I created the High Fidelity prototype using Sketch app and Marvel app for prototyping and user testing.
During the many testing phases, one of the most complex features had to be iterated more than most in the course of the project. 
The online thread of comments and sub comments was complex and pushed me to search and test further solutions so that users could easily understand how the functionality worked.
At the end, with the feedback from the users, I created a solution that would limit the amount of sub comments and would propose the users in this discussion to create a separate debate so that they could further engage in conversation.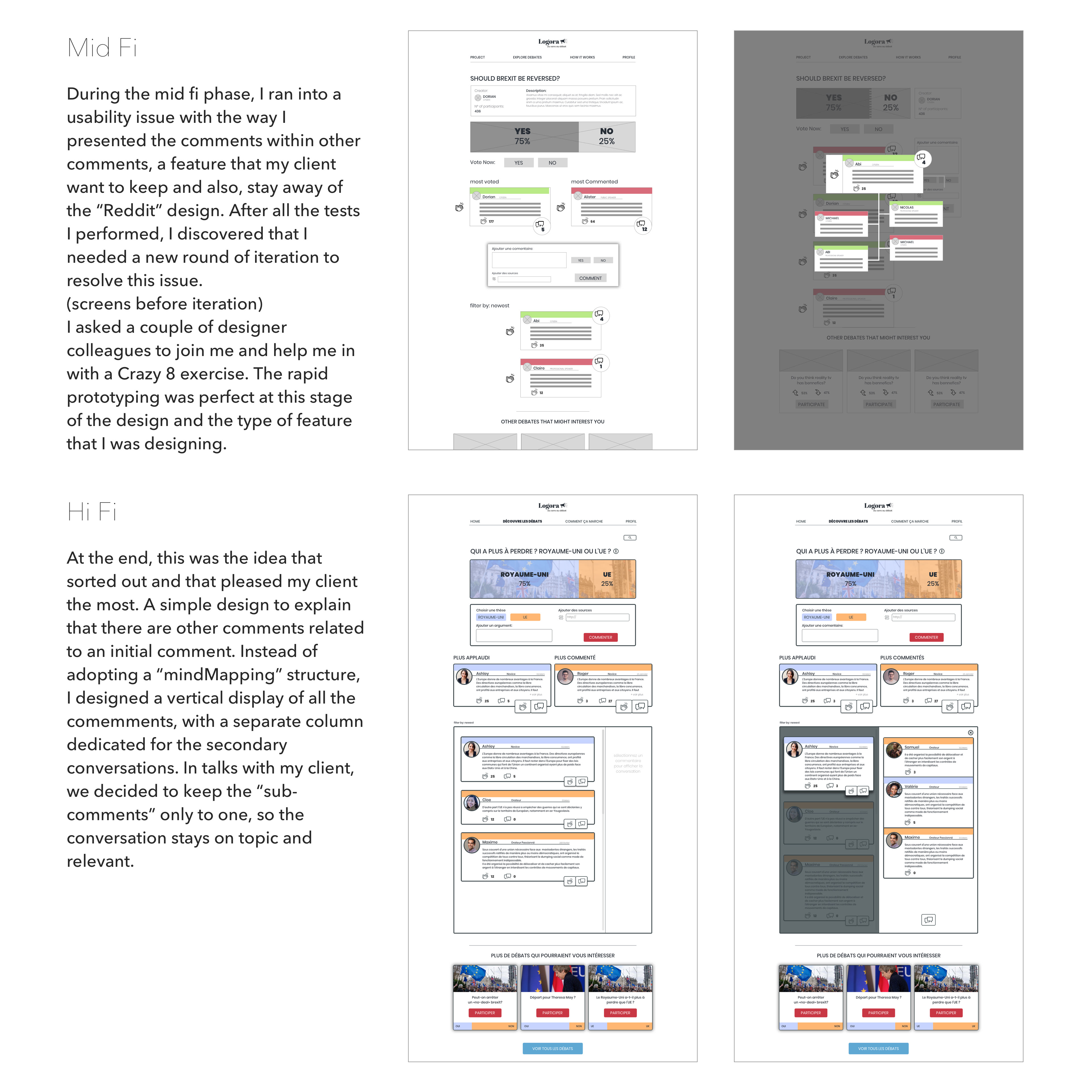 The video shows the user flow of Dorian creating his account, discovering his profile, searching for a debate, and creating his own debate, always interacting with the new avatars and prizes that he can win.

Both my clients and final testers were happy and pleased with the results of my work.

I learned so much working on this project, not only the complexity of creating social networks but also the need of personal and social interaction and creating user engagement in an online environment.